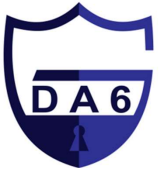 KEEPING WHAT IS IMPORTANT TO YOU SAFE
Due to the increasing demand for security measures and with our vast knowledge in the industry, we have established a security company called DA6 SECURITY (PTY)LTD.
The role of security is to enforce and maintain prescribed counter measures as enacted by law.
Why do we need security?
Security is defined as the situation that exists for the protection of information, personnel and property against hostile persons, influences and actions
Our team
Our company consists of highly trained and qualified management with more than 18 years experience in the security industry
Our mission
To build and maintain a security team that will provide an affordable yet effective security service to our clients
Our Services
Security officers
Undercover guards
Risk assessments
Investigations
Technical Asset monitoring